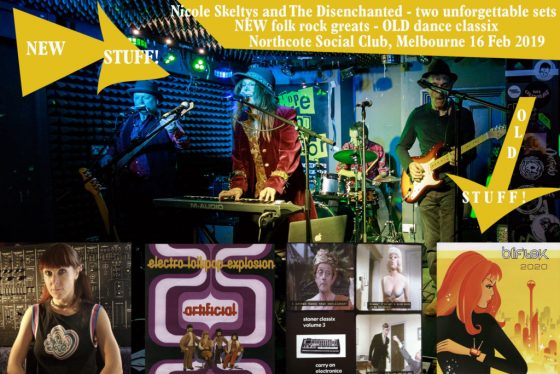 The Disenchanted at the Northcote Social Club, Melbourne
Date:

February 16, 2019

Time:

13:00

Location:

Melbourne VIC Australia 3070

Venue:

Northcote Social Club – 301 High St, Northcote
After a 6 year absence, Nicole Skeltys returns to Melbourne with her new band The Disenchanted – a London based art-rock folk band for the wise man and the fool, who have nothing to live up to.
The Disenchanted will be performing tracks from Nicole's 12th album 'Deal With Your Disenchantment', a 21st century woman's response to Dylan's classic albums of the '60s/ early '70s, all original material. They'll be joined on stage by former members of Melbourne's much loved psych/alt folk outfit Dust.
Nicole's mercurial musical career started in the late '90s in Australia. In her seminal electro-femme duo B(if)tek (with Kate Crawford) she toured with the Beastie Boys, recorded with Twin Peaks chanteuse Julee Cruise, sold out the Sydney Opera House and headlined dance stages in festivals across the antipodes. As Artificial, she also performed and released the now legendary Stoner Classix 'hillbilly disco' vinyl series.
Her NSC show is called 'New Stuff/ Old Stuff' and will consist of two sets – recent folk rock gems followed by a costume change and a selection of B(if)tek and Artificial electronic dance hits performed 100% live. Has to be experienced to be believed.