The Sounds of Tomorrow
As 2021 slouches towards Bethlehem, feeling like its time for another blog post given the last one was May 2020!  Like most people in Melbourne, only let out weeks ago from what was apparently the world's longest (cumulative) lockdown, still feeling shell-shocked & hard to remember what happened over the last 18 months, but here is my best recollection!
2020: B(if)tek saw the future (apparently)
There is a revival of interest in all indie & electronic dance music '90s/ early noughties ATM. B(if)tek had the creepy good fortune to have named our most popular (and only Sony album) released in 2000, 2020.  As a result, we benefited from aesthetic nostalgia & dystopian shock all at once: in July 2020, 3RRR re-broadcast a live set we did 20 years ago to promote the album, and other radio stations such as DoubleJ have since followed suit. At the start of the year, I had boxes of 2020 promo vinyl still stacked in my studio; now there are none left, as people really wanted to hear what 2020 sounded like back then. Helped by the extraordinary Efficient Space label who moved my back catalogue.
A friend of mine sent me this updated picture of what the album cover should have looked like were it released now.  Other friends in Sydney noted that the yellow skies were exactly what Sydney looked like in early 2020 as the smoke from the horrendous bushfires cloaked the city in an apocalyptic amber haze for weeks.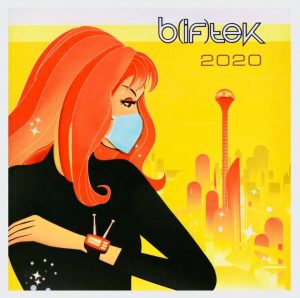 Other things I'm pretty sure happened in 2020 included the Econoclasts on-line event which I hosted and included Emma Dawson from progressive economic think-tank Per Capita, the incredible Bek Conroy from The Marrickville School of Economics, and Dan Edelstyn from the Rebel Bank in Walthamstow  Dan and printmaker, change-maker partner Hilary are truly the inheritors of neighbour William Morris's 'useful work vs useless toil' beautiful activist-art agenda. They have now generated a movement that is putting community supported solar energy into their deprived London suburb.
In November, long-time friends and collaborators Mark Gardiner (guitar) and Ann Marie Sullivan (vox) joined me to do a streaming event from my studio to promote Clan Analogue's new drone-themed release Distance, to which myself and partner Bill Garret contributed a track.
2021: The Sounds of Tomorrow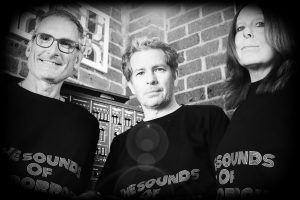 In March 2021, Bill, Mark and myself badged ourselves The Sounds of Tomorrow did a drone set at Café Gummo which kept to a strict agenda of one or two chord changes at the most.  Might have broken that a bit with our version of possibly best pop song ever produced All Tomorrow's Parties.  Great gig in one of Melbourne-is-really-Berlin  themed micro-venues, organised by the sensational Nick Wilson from Clan Analogue.  Bill also bought me the legendary Revox B77 reel to reel, feature image for this post, it will appear at some point providing backing tracks on stage, no shame in that Human League.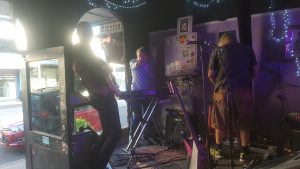 In March 2021, I 'brought the rave' (according to some reports) to Melbourne Electronic Sound Studios spectacular show at the Melbourne Music Bowl. An extraordinary night in which the historic synthesizer machines from the 500+ MESS collection were indeed the stars and doing the work. I was privileged to perform also – again reprising my golden olde dancefloor hits from late '90s Oz underground which were appreciated.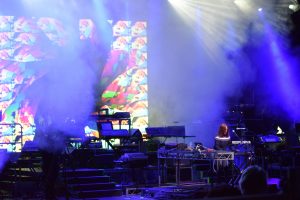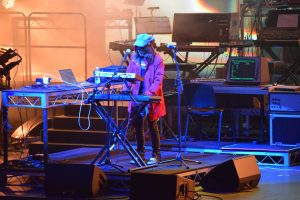 2021 also brought the joy of playing live in the foyer of Melbourne's premier indie/arthouse cinema Thornbury Picture House to promote their extremely important documentaries about the history of women in electronic music.  First up in April, Delia Derbyshire: The Myths and Legendary Tapes – an overdue fascinating homage to the woman who was seminal in setting up the BBC Radiophonic Workshop in the early '60s, writing the theme to Dr Who and so much more.  Then in November, after many postponements, myself and Kat Stathis got to do our live noodling MESStriss gig in support of Sisters With Transisitors, ably supported by Bill on future decks.  Very moving film, not least because I have met and been supported by some of the amazing women featured, including Pauline Oliveros who has now passed.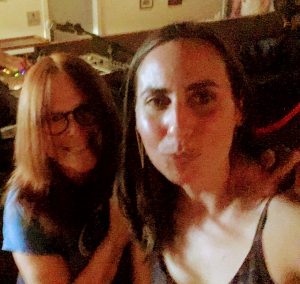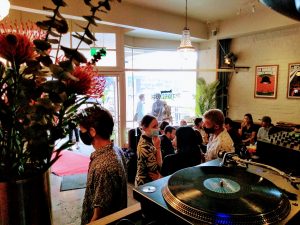 Xmas japes & beyond
Right now feels like letting oneself gently sink into a spa bath of extreme exhaustion sprayed with bubbles of wild enthusiasm for gigs & seeing friends, and both impulses kind of cancelling each other out
However, already there are signs of the times that 2022 will be a good year music-wise.  A new label Tonal Oceans in The Hague will be re-releasing some of my '90s Artificial Stoner Classix on vinyl by June 2022 (including extraordinary toons by Dark Network.)  I will be back in Europe from Spring 2022, and will be gigging in UK & Europe to promote those delicious dollops of bleep – here is the test pressing I received last week which sounds awesome!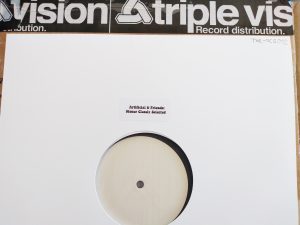 I have finished Canary Wharf: the Rock Opera, and have been approved via my La Trobe University mid-candidature review to continue on with my Phd for another year.  The music and script (The Book in opera terms) will be available on-line by mid-2022 on a website I am constructing.  If  Canary Wharf sounds impressive, it will be largely because of the huge talents who have come on board to co-record material  including Mark Gardiner, Anne Marie Sullivan, Kristen Perry, Sam Price, Mat Watson, Bill Garrett, Robin Hemmings, Andrew Coates from Black Cab and Inga Liljestrom. Also elicited the talents of professional actors in the UK to voice the character parts  – they sound like they are in the same room despite being thousands of miles away and months apart -how drama gets done in a pandemic!
I have also been supported at La Trobe by the dream supervision team of Dr Noel Maloney and Dr Kim Baston who are mega-stars in their own right.  The Morrison government deliberately cut out Australian publicly funded Universities and higher education institutions from needed financial support through the lockdowns. As a result the higher ed sector here has been gutted, with thousands of staff losses and arts/ humanities departments in particular targeted for downsizing, including the shutting down of the theatre and screen studies departments at La Trobe University and the loss of Dr Baston at the end of this year. I am very lucky I got my Phd scholarship when I did, my rock opera is probably the last music based work that will be produced at that University.  But no-one likes an arty-farty smarty pants in Australia, there's still the cricket and footy we can be proud of – are we not all called Bruce?
Here is what I am reading over Chrimbo break: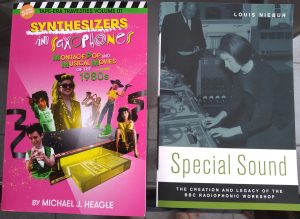 Have a super-fun Chrimbo. And remember to be absolutely sure you are ready for desert, because you can't go back to savoury now.