On 22 April, I launched Canary Wharf: the Rock Opera at Thornbury Picture House, Melbourne via two screenings (one sold out) to very enthusiastic audience responses.  Each screening was followed by a Q&A which allowed myself and movie co-producer Dr Bill Garrett to elaborate on what motivated me to try & revive the rock opera as a form, and why I wanted to tell a story about London's finance industry.  The film, music, the research I undertook, the creative people involved in the project, the background to the story, financial and social themes explored, are all now on-line via the project's dedicated website.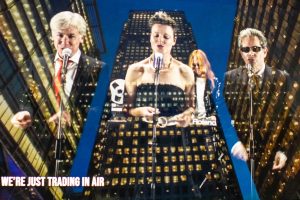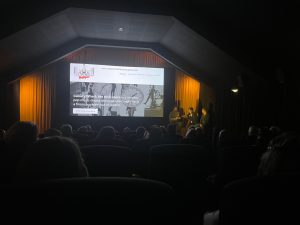 This 50 minute audiovisual work, 3 years in the making, is by far the most ambitious and difficult undertaking in my creative career.  For a musician like me to take on the challenge of writing a long-form music based drama which explores some complex financial themes (which I still struggle to understand myself!) but in an engaging way, to make a political point about the destructive impact of neo-liberal 'free market' thinking on social bonds – felt like an impossible task during those dark lockdown years 2020 & 2021.
But by mid 2022, after taking a 6 month break from my Phd, suddenly everything came together.  I was back in London, and mastering Canary Wharf with genius audio engineer Jon Astley, who had mastered my last album Deal With Your Disenchantment (2018), a collection of original songs where my lyrics reimagined Dylan's late '60s golden period from the perspective of a 21st century woman.  In Jon's illustrious 45 year career, he as worked with all the rock and pop legends, including a long relationship with The Who.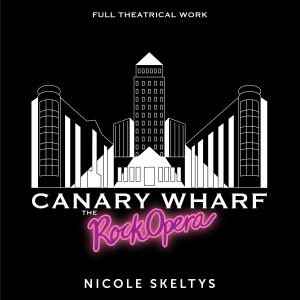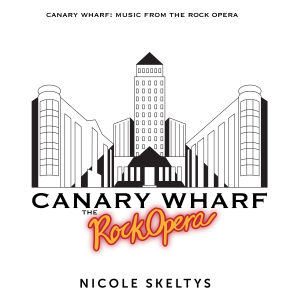 Thanks to Jon's kindness, he had earlier facilitated an introduction to Pete Townshend, whose 1973 rock opera masterpiece Quadrophenia was the main musical inspiration for writing my own rock opera. In June 2020, when I was back in Melbourne, Pete very kindly spoke to me for an hour and half about all kinds of topics including the process of writing a rock opera.  His intelligence and generous encouragement  – that it sounded like I had "a good story and a strong message" and that I should "make the rock opera my own"  – greatly helped me get through those dark lockdown days and keep working on Canary Wharf even when I couldn't see how I could translate my crazy, complex ideas into a coherent and appealing music based story.
The final outputs are fourfold: two albums, a dedicated website and a movie.
Canary Wharf is first and foremost a 'classic' long-form audio work – if you don't like the term rock opera album (I personally love it!), you can also hear Canary Wharf as a cross between a radio play and a concept album.  There are two audio album versions – the music only version (soundtrack album) and Canary Wharf: the Rock Opera – Full Theatrical Work  which is the full rock opera itself. This version includes narration, dialogue, sound FX and songs to take the listener on a journey following four characters with very different experiences of London's finance world from '80s deregulation to the present day. I composed, co-composed and recorded all the music, collaborating with some of Melbourne and London's finest musicians and voice actors, including Andrew Coates (Black Cab). The songs reference early '80s British synth pop, punk/ agit-prop, Neu post-rock instrumentalism, Talking Heads, Kate Bush, and heartland rock piano ballads
As the story told reflects a lot of complex ideas and financial and economic terminology, as well as a lot of contributors and collaborators in London and Melbourne, I built a website to present the rock opera and make it easier to get into, including breaking down the work into 10 scenes with explanations about terms used in each scene.
In January this year, I somewhat belatedly realised that I had to have some compelling visual component for Canary Wharf that could be presented publicly in order to launch it as a rock opera.  So with the assistance of Bill Garrett, a multitalented producer and former BBC TV finance journalist, I pulled together a DIY 50 minute 'music movie' to accompany the rock opera, consisting of found/ archival footage, photo montages, some acting sequences and a series of music videos for the songs.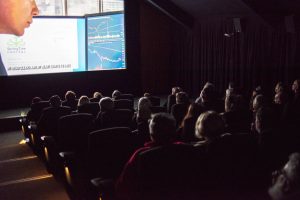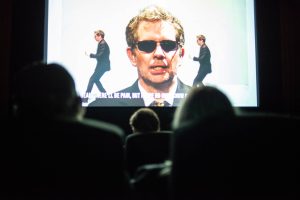 The Canary Wharf movie and album launch was premiered at Thornbury Picture House, Melbourne on 22nd April in two screenings (one sold out) to highly enthusiastic audience reactions. The movie is now on the website and both the soundtrack album (music only) and the full theatrical work are available across all major digital streaming platforms and my Bandcamp site. Music from the albums including the singles Trading in Air and 14 Days has enjoyed good radio play across local Melbourne radio stations 3RRR, PBS and 3CR.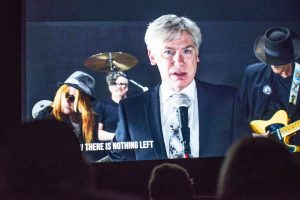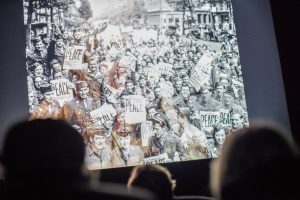 Where to next with Canary Wharf? I return to the UK in July this year, where I must knuckle down and finish off the thesis component of my practice based Phd at La Trobe University: in 2020 La Trobe kindly granted me a scholarship to undertake a doctorate in Creative Arts, Canary Wharf is the major creative component part of my Phd work but I still need to write a thesis.  However, I do hope to find the resources (via grants, private investment, crowdfunding or combination of all three) to take Canary Wharf to the next level and have the rock opera staged live.  Ideally, this would be a site-specific installation at Canary Wharf itself.  A good prototype for this was the BBC's Flashmob Opera at Paddington Station in 2004.
Stay tuned!