Your gravestone epitaph competition
As I remain in Melbourne recovering from surgery, I find that I miss Pittsburgh quite a lot – in a yearning sort of way. Which is a bit mysterious given I have only really just moved there. But I think I have figured out the major reason for the heart tug: Allegheny Cemetery, which backs onto the street behind where I live. I walked there almost every day last year, and it is surely one of the world's great cemeteries, encompassing 300 rolling emerald acres and 15 miles of tree and monument drenched roads. Allegheny Cemetery feels more like a happy empire of the dead than an ordinary burial ground. Its beauty and spiritual energy is sublime and very hard to capture in words.
But there is one aspect of the cemetery that disappoints me: and that is the lack of imagination in the epitaphs engraved on the thousands of gravestones and dozens of mausoleums. As I wander around the grave-studded hills, I am always on the look-out for inspiring legacies, some profound words from the departed to the remaining bewildered who are still tromping around their remains. But I hardly ever find them.
There is one gravestone that stands out, fairly recent, and the man that left it seems to genuinely embody that truly American genius for valuing individuality. His epitaph says:
"It takes courage to grow up to be who you know you really are."
But that is pretty much it for someone sharing their vision of life as they leave it.
Most of the thoughts people have left behind aren't theirs at all, but those of priests and bibles – conventional Christian pieties like "In the arms of Jesus", "Rest in peace", "He did God's work" etc And just as many drab scratchings by people apparently too poor to afford the cost of extra religious engraving – all they are able to say about themselves is their name, their date of birth and death, and sometimes a one word description of their most important role in life: Father, Mother, Brother, Sister.
Thats not to say that many of these gravestones aren't moving, they certainly can be. But how much more moving is it when words express grief and love and a vision of life in a most personal way. Here is another rarity, a monument to a recently departed child that makes you smile and cry at the same time, and admire the courage and hope of the parents of that left it there: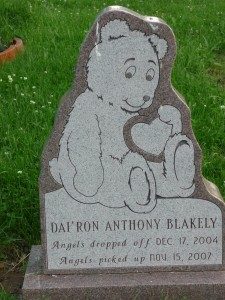 Naturally, I fantasize from time to time about what epitaph I'd like to leave behind, were I fortunate enough to find myself nestled for eternity in Allegheny Cemetery in a particularly nice spot with a view. Spike Milligan thought of the best one – he wanted to have the words "I told you I was ill" as his epitaph which would have continued his wonderful legacy of lightening the hearts of millions and showing no respect for authority. But of course his local church, the Chichester Diocese had the last say, they would not allow it.
My favorite monument to my own death at the moment would be this:
"Here lies a bumbling human."
I can't claim to have come up with the infectious term 'bumbling human', that honor goes to Natasha Dwyer, who in a single phrase has captured everything you need to know about human life in order to be compassionate, amused, annoyed and forgiving.
And in this vein, I have now decided to link two problems: what to do with some of my old vinyl releases – B(if)tek records that I no longer have a home for – and how to amuse myself while I get well. And I have come up with this happy solution to both:
I WILL GIVE AWAY A COPY OF B(IF)TEK'S DOUBLE VINYL ALBUM '2020' PLUS A VINYL EP OF 'WIRED FOR SOUND' REMIXES TO THE PERSON WHO CAN COME UP WITH THE MOST APPEALING EPITAPH FOR THEMSELVES, POSTED AS A COMMENT ON MY BLOG.
I think I'll give this competition about 10 days to play itself out. Then I'll contact the winner, get their address, send off the goodies and announce the winning entry in a couple of weeks time.
Thanks everyone, I look forward to reading your brilliant graveyard legacies:-)