This is the third in a series of interviews with people who are committed to aspects of Australian cultural life that I find inspirational. This time I talk to Nick Wilson, electronic noodler and independent label manager about the illustrious history and output of the Australian electronic underground.
Nick Wilson has a long background in electronic music and sound art, having performed and recorded music with acts such as Continuum, Random Acts of Elevator Music, Space Is Ace and Tiatto, and worked solo as Reductionist. He is currently the Label Manager for the Australia-wide electronic arts collective Clan Analogue and produced the compilation Habitat: Environmental Sound Research, nominated for an Australian Dance Music Award. He collaborated on the City Frequencies installation at the Melbourne Town Hall for the 2000 Next Wave Festival and the Café Voyeur installation at Kent St for the 2004 Melbourne Fringe Festival. He has composed music for the Re-Sound ensemble in Melbourne. During 2008 and 2009 he managed Institute of Sound, a year-long series of electronic music production and performance workshops. Recent projects have included impromptu office building performances in Sydney and Melbourne with Random Acts of Elevator Music and the sound installation Bush Resonance created during an artist-residency in Eltham, Victoria.
Nicole: The Australian electronic underground has a long and noble history. Could you give me a brief sketch of some of the key periods, artists and labels over the decades?
Nick: In the 1970s electronic music was a very obscure part of Australian music. There was an experimental electronic music scene in Melbourne focused around the Clifton Hill Community Music Centre which produced notable artists such as David Chesworth and Philip Brophy .
Electronic music became a feature of post-punk music in Australia as elsewhere although the rock-oriented groups gained more attention at the time. Notable electronic music artists from this era include Severed Heads in Sydney and Ollie Olsen's various bands in Melbourne.
Following on from this, synthesizers gained a foothold in new wave pop, with bands such as Models , Real Life and Icehouse making extensive use of new technology.
In the late 80s rave culture began to infiltrate Australia and became immensely popular in the 90s. Labels such as Volition Records released popular records by crossover acts such as Single Gun Theory and Box Car, Itch-E & Scratch-E winning an Australian Recording Industry Award for Best Dance Release heralded a newfound acceptance of electronic music in the mainstream media.
In the last decade, with a resurgence of rock, electronic music slipped back into an underground vibe. In the last couple of years there has been a groundswell of electro in the Australian scene, with bands such as the Presets and Midnight Juggernauts making it big, while female singer/songwriters such as Bertie Blackman have turned to electronic music to broaden their sound.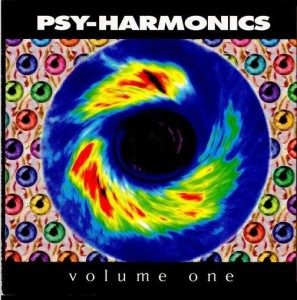 N1: Clan Analogue holds a unique position in Australian music culture, as a long-standing national collective of electronic based artists, both sound and vision. Can you describe to me in more detail what Clan is, and how did it all get started?
N2:Clan Analogue began in the early 90s when Toby Grime and Brendan Palmer met one night at a bus stop in Sydney. Toby was carrying a Casio CZ101 synthesizer so Brendan approached him to compliment him on his taste in musical instruments and they proceeded from there to form an electronic band called Telharmonium and lay the plans for a collective of local electronic music artists. In Sydney at the time the live music scene was very rock-oriented. There was a thriving nightclub scene centred around Darlinghurst where house and disco could be heard but there was no space between these two extremes for live electronic music. Brendan placed an ad looking for other like-minded musicians and the inaugural Clan Analogue meeting took place with five people attending..
The collective grew from here to put on live events, publish a newsletter and start releasing music. Although it did spread to most capital cities in Australian, it is mainly focused these days on Sydney and Melbourne. Over the years it has evolved in a chaotic way, going through many phases. In the public eye it is often seen as an independent electronic music label however members also produce podcasts, run workshops, put on radio shows and lots more. It has remained as an artist-run collective.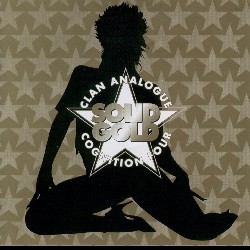 N1: What are some of the highlights of the collective's history?
N2: Hard to think of any one highlight, just a general trajectory of greatness I hope! Throughout the '90s, regular Clan Analogue nights were held at venues like the Hopetoun Hotel, the Manning Bar and Good Bar, all of which contributed to the breaking down of the notion that electronic music wasn't a serious live music format. The earliest Clan Analogue releases were cassettes sold at gigs but soon a series of vinyl EPs were produced, leading to a distribution deal with Mushroom Records and, later, Festival. Members started playing on bills with touring international acts like On-U-Soundsystem. The live events moved out of pubs and clubs and into warehouses and forests, with DJs and visual projection artists joining the collective.
Highlights of this time include dub and ambient compilation CDs, the nomination of the compilations 20 Disco Greats and Habitat for Australian Dance Music Awards, and great releases by artists such as Deepchild, Winduptoys and Telemetry Orchestra.
N1: Its not easy keeping any kind of 100% volunteer based organisation running for two months let alone a bunch of crazy artists for almost 20 years – what have been the key enablers for Clan's longevity?
N2: The main enablers have been the variety of people who have come on board at different times. There have always been enough talented musicians on board that we've been able to consistently release interesting stuff. Also, we've always had at least a few people around who are motivated and know how to organise stuff. Also, the collective doesn't have any particular musical direction other than a general interest in electronic music so we've never been locked into a particular genre and hence become stuck in one time and place. We've been able to release diverse styles of electronic music as new artists have come along and hence evolve with the times.
N1: Do you think there is something distinctive about Australian electronica, either in terms of its sound, or the sub-culture that surrounds it?
N2: I think electronic music is reasonably global these days. There is so much new music being produced around the world that is readily heard online or over the airwaves that it's really up to individuals to develop their own styles. So I'm not convinced there is a distinctive Australian sound, although audiences and critics may judge otherwise.
N1: One lovely 'institution' I think is the free Ozzie 'bush doof'. Do you want to describe what that is?
N2: This is a fun event where anywhere from 50 to many thousands of people gather in a secluded bush location for a dance party. There tend to be huge sound-systems, great lighting and of course a lineup of great DJs and musical acts. Many of the early bush raves were small illegal gatherings but they've become a big thing, such as the Earthcore raves in Victoria which became quite important to rural economies. These events are often dominated by psy-trance and chill-out music but there is also some great diversity in sounds.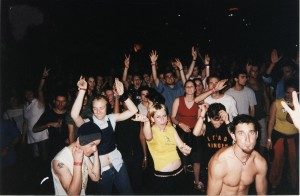 N1: When I was in Brooklyn over a year ago, the warehouse party was starting to have a big comeback, which was very exciting. There are no warehouses left in Sydney or Melbourne – where can you go in these cities now to see live electronic acts? Or are there no more live acts – just DJs and boys with lap-tops?
N2: A lot of the live electronic acts are downsizing to laptops which is a bit sad for an old analogue fan like me but you can do some great stuff with software these days. Logistically, the laptop live act fits into a club environment a lot more easily than bringing lots of gear. There are some venues which have live electronic music music from time to time such as Loop, Horse Bazaar, First Floor and Bar Open, it's just a matter of seeking it out. Of course the big raves, bush parties and festivals often include sizeable lineups of live electronic music.
N1: You and I have happily reconnected again because of the release of an EP which includes some excellent B(if)tek remixes

by those sly groovers Bleepin' J Squawkins and Koshowko. But you are also about to launch a triple album Clan retrospective (and DVD doco is that right?) which I think will be a landmark in Australian sub-cultural history. Can you please tell me about that release and DVD?
N2: The release is called 'Re Cognition: The Clan Analogue Legacy Collection'. We have combined the album and the DVD into one collectible three-disc package. The first disc is a collection of some of the greatest tracks from the collective's history. The second disc is a selection of new remixes, with Clan Analogue's current artists choosing their favourite moments from the back catalogue to remix. The third disc is the DVD which collects together filmclips, a discography, the new documentary 'Clan Analogue: Plug In & Switch On' and the remastered rare mid-90s VHS release 'Clan Analogue Live at the Goethe Institute', a groundbreaking audiovisual live performance from the early days of Clan Analogue. There is actually a bonus fourth disc of rarities, called 'Cognition X', available as a free download to people who buy the album in physical format. It will be available soon from the Clan Analogue website as well as iTunes etc.
N1: Thanks very much Nick. Best of luck with the releases and happy noodling!
N2: Same to you!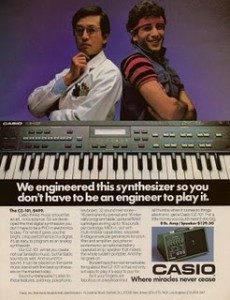 POSTSCRIPT: Congratulations to Marty Batfreak who won the rare vinyl prize in the
gravestone epitaph competition!