The Dust Revival Band
Q: What do you get when you cross a top hat, a frockcoat, exposed underwear and bunch of leaves thrown in the air?
A: The Dust Revival Band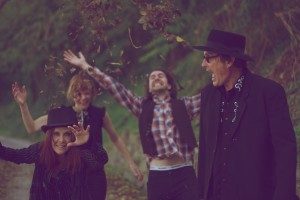 A few weeks ago, I invited my former bandmates from my old folk rock band Dust over to my Meadows suburban retreat for a reunion BBQ. Ann Marie (our former singer), her husband Ross (the drummer in local eco-blues swamp legends The Wayfaring Strangers), and Mark (former Dust guitarist) showed up. Our former drummer 'Fancy' Dave and bassist Gav couldn't make it due to a combination of hang-overs and childcare commitments.
As we watched AM and Ross's two year old Claudia stagger around the yard and hug and drool on Deary, my psychedelic concrete fawn, (courtesy of my geniusvisionary art pal Kuba), we caught up on four years worth of life events, including Mark and my own travel experiences and warm impressions of the US of A.
After increasing numbers of beers and sausages, we all realised we were (once again) at another cross-roads in our lives: immensely frustrated by our day jobs (or in AM's case, maternally induced unemployment), just as clueless as ever as to how to turn our creative talents into some kind of money making venture, and that we all really missed playing together.
By the time Ross was strapping Claudia into her car baby seat and my 14 year old neighbor started his late afternoon trampoline session, head appearing rhythmically over the fence to observe departure proceedings, we had decided we needed to start jamming again together every weekend and see where that might take us. Although working around childcare commitments plus Ross's shift work as a tram driver would be a challenge to say the least, we decided we needed, for our own sanity and soul food, to try anyway.
And thus the Dust Revival Band was (re)born. Over the last six weeks, every Sunday we have dusted off (ha!) our old tracks, conjured up some new ones, and worked up an eclectic range of covers in my converted studio garage. Beer is consumed, corn chips are eaten, neighbors are annoyed, feedback from my monitors is battled, my 1972 Wurlizter electric piano, which I found in Pittsburgh and couldn't bear to leave behind, is thumped, and there is as much giggling as there is playing of instruments.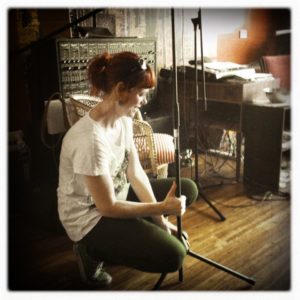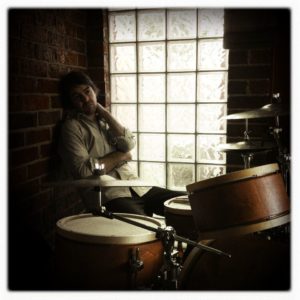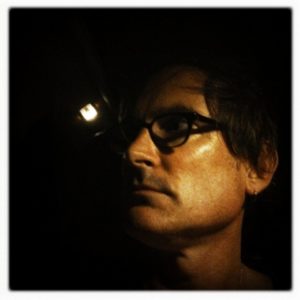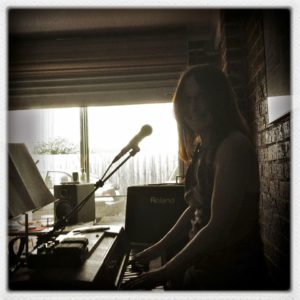 And things have moved fast. Within 24 hours of Mark opining "we need a residency where we can rehearse in public" – as a way of terrifying ourselves into playing better – the wonderful Edinburgh Castle hotel in Sydney Road, Brunswick offered us every Sunday afternoon in June. Followed, to my surprise, by offers from other inner Melbourne venues.
It didn't used to be this easy. Years ago when Dust first started, I had a hard slog trying to book the band into decent venues and time-slots. Bookers weren't particularly impressed with our psyche-folk-rock schtick. Now, however, folk-rock is massive with the hipster set. There's a chance that TDRB repertoire might have wider appeal now. There is also the chance that we will be laughed at and shunned because Mark and Ross refuse to grow beards. There is also more than a chance, a certainty in fact, that my rusty voice won't sound better than a squeak and I'll have to hide my harmonies behind the rich passionate folds of Ann Marie's lead vocals as best I can.
Many moons ago I remember someone from the Oz music industry (I can't remember who, someone from a label perhaps) telling me that the music Kate and I were writing was "ahead of its time" (probably because B(if)tek sounded like Ladytron before Ladytron sounded like Ladytron). In my usual annoyingly flippant way, I asked "Exactly how many years ahead of our time?". But the gent responded without a blink "Five years".
I've remembered that remark. And I wonder if the fact that TDRB has reformed just under five years from the release of Dust's first and only album 'Songs' might be a good sign:-)
BoD postscript
I recently received a nice bit of feedback: 'Skeltys and Foley; The Journey of the Band of Discovery' – the 14 minute Appalachian music road trip mockumentary I put together with my dear pal Lucy Foley and the invaluable help of genius editor Nick Meyers, won first prize as the 'best group music' film at Houston's film festival WorldFest.
WorldFest is one of the oldest, biggest and most respected indie film fests in the States. If I could have afforded to get to Houston for the awards ceremony weekend of partying at the end of April, I could have gotten a free trip to the iconic Jimmy Web seaside town of Galveston, a free tour around NASA facilities, and as many BBQed longhorn steaks as I could care to ingest with fellow zero budget indie film nutters. Instead, I was holed up in my 18th floor Lonsdale St office cubicle, working on ambulance services funding issues, a sacrifice I am sure the people of Victoria will forever thank me for.
If anyone has a passing interest in the BoD epic, please email me and I'll send you a code to check out the Vimeo version on-line.
I've entered the BoD film into a bunch of other film festivals in the States and Canada for 2012. It will be interesting to see how many more, if any, it gets accepted into.
Or maybe BoD is five years ahead of its time, and if I only had a tardis, Lucy and I could right now be luxuriating in our Santa Monica penthouse watching ourselves on our own HBO series, while sniffing cocaine off the bellies of our overfed daschunds that lie prone in our laps.