Giving Away My Past to a Good Cause – You
As 2012 (or perhaps existence as we know it) draws to a close, that magic time of year is upon us. When there is not enough time to sober up between Xmas drinks so your memory sloshes in and out of your brain like lager froth – whose lap did you sit on at the office Xmas party? to whom did you send your latest sozzled text/ email rant? on whose couch are your sunglasses and idiotic Kris Kringle gift now crunched into a corner?  Who cares, its time to buy stuff people don't want and give it to relatives who resent you, then get maggoted all over again.  Its Christmas.
But Xmas doesn't have to be this empty and awful. Imagine if someone offered to give you stuff that you really wanted. Stuff that actually made your life better, expanded your consciousness, nourished the soul, gave a spring to your step, a twinkle to your eye.  Imagine if someone had all this amazing stuff just sitting in boxes, for years, in the corner of her studio, this stuff that came straight out of her heart (and, oh ok maybe the occasional spleef).  And then that someone said to you "Take this and eat it, this is my past body of work which will be given up for you…for the forgiveness of your sins, do this in memory of me.  And I won't charge you a cent, thats right its all absolutely for nix!"
Well, dear readers, this is actually whats happening to you right now.  Clap your lovely pair of mince pies around this lot: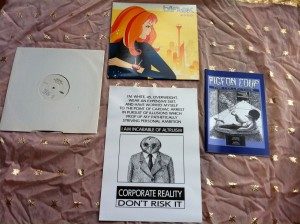 In this very special hamper, we have no less than: rare B(if)tek pressings of Machines Work (and remixes) EP and 2020 double album, The Pigeon Coup (Volume 1) underground comix collection, plus Corporate Reality: Don't Risk It poster. The latter in particular makes the perfect office cubicle decoration, or farewell gift to your favorite useless layer of corporate management after they've issued you with your redundancy notice just as the festive season kicks in.
And all of this can be yours for free – just the cost of postage (vinyl and paper weigh a bit  because they exist in the three dimensional space outside the internet. But if you like your comix in digital form, then step right into this wormhole).  Just email me nicole at nicoleskeltys dot com and I can arrange for a segment of my past to be delivered to your door.  Just be careful not to step on it when you stagger outside to drop the empties into the recycle bin.
Pigeon Coup Revival!
The original Pigeon Coup series was set in the electronic underground, but now times have changed – or have they?  Aaron Doty (graphix/ cartoonist genius) and myself (story hatcher) have started a new series of Pigeon Coup, this time set in the folk rock scene.   Here, for your Xmas/ NYE inebriated pleasure, is the first episode.  And resemblance to my current band is pure synchronicity.  Please enjoy and see you in 2013!